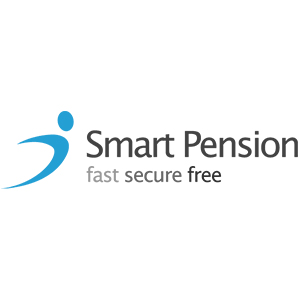 We've partnered up with auto enrolment experts Smart Pension to provide you and your employees with the fastest and most secure pension scheme in the UK marketplace. Smart Pension was founded by experienced finance and technology professionals and has been designed specifically to support UK businesses faced with the challenges of auto enrolment.
Smart Pension's Master Trust is regulated by The Pensions Regulator and the company has been awarded a 5-star rating by independent reviewers Defaqto for the past 3 years.
Smart Pension allows employees to be in control of their retirement planning by offering the option to self-select how funds are invested, using Smart Pension fund selection and underlying funds from Legal & General. It's now even easier for employees to manage their pension with the new Smart Pension App, available from the Apple Store and via Google Play.
Smart Pension's adviser and employer platforms have been designed with ease of use in mind. It takes only 3 simple steps to become signed up and compliant with government pension regulations. An interactive sign-up process automatically populates your company's registration details in just moments, while a state-of-the-art e-signature feature allows agreements to be signed instantly online, with full security.
As Merit Software is Smart Pension API ready you are able to submit employee, payroll and contributions data from within your payroll application directly to Smart Pension with just a single click. This means you can turn on your payroll application and carry out the same functions as if you were logged into the Smart Pension website. From creating a new pension scheme and adding employees, to assessing them and submitting pension contributions, it can all be done from your payroll application without the need to visit their website or upload CSV files.
Smart Pension has also recently launched Smart Rewards, a benefits programme which offers your employees unique discounts including up to 54% off electrical goods and up to 40% off cinema tickets, with no extra cost to you!
Visit the Smart Pension website
For more information, simply click the button to view their website.